Tattoos are statements. They are fashion statements. They are statements of identity. They are statements of belonging. They are statements of personality.
But sometimes, that statement isn't the right fit for the moment.
Sometimes the right move is to conceal your ink. Maybe you are going for a dream job and you aren't sure if it's a tattoo kind of place. Or maybe it's your best friend's wedding and the bridesmaid dress doesn't fit with your tatt. Or maybe your mum is coming to visit and she has a thing about tattoos…
Whatever the reason – the great thing about tattoo makeup concealer is that it is temporary. A quick fix for a certain job interview or special event. Here are the things you didn't know about concealer your tattoo.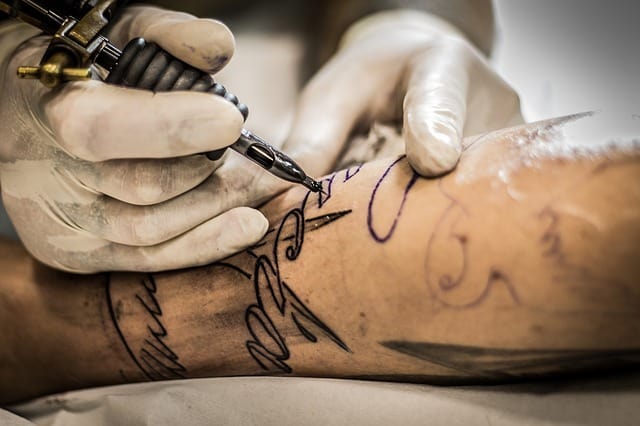 Things you didn't know Number 1
Even the badest tattoo enthusiasts sometimes cover their tattoos.
Angelina Jolie is famously covered in tattoos – 17 at last count. Take a look at any images from Jolie's latest movie Maleficent 2 and you won't see a single one. Although sometimes producers use post-production magic to remove the images, the more common approach is a good, old-fashioned tattoo makeup concealer.
Angelina isn't alone. Jessica Alba's wrist tattoo was nowhere to be seen in Good Luck Chuck while you'll see no sign of Bruce Willis' dragon tattoo in any of his movies.
Things you didn't know number 2
Tattoo concealer makeup can be used to conceal birthmarks and bruises.
Tattoo makeup concealer is formulated to provide thick coverage over a potentially large area, making it perfect to cover large bruises or birthmarks. As with all makeup – the secret to success lies in blending it well and matching the skin tone accurately. Also, permanent makeup could be a great solution as well, to conceal your tattoos, once you desire to do so.
Things you didn't know number 3
There is an app you can use to check how your tattoo will look on your skin so you can be really sure you love it before you take the plunge.
Not 100% sure you know how your tattoo is going to look? Inkhunter is an app that works on iPhones and androids that allows you to take a photo of where you want the tattoo to go and then see exactly how your tattoo would look. It's free, simple, and easy. What's not to like?
Things you didn't know number 4
You can make it easier to conceal your tattoo by first color correcting with its opposite color
Depending on what kind of tattoo you have, you can use a color corrector first to "cancel out" the color in the tattoo.
Here's a rough guide:
| | |
| --- | --- |
| Colour in tattoo | Colour needed to neutralize |
| Blue | Pink |
| Blue/purple | Peach |
| Blue/grey | Salmon |
| Lavender | Yellow |
| Green | Red |
Things you didn't know number 5
You can use a hairspray to ensure the concealer makeup will stay all day and won't smudge.
While there are many professional fixing sprays, in a pinch, you can use hairspray to fix the makeup and ensure it stays put.