If you looking for affordable tattoo kits for sale, it doesn't really matter if you a beginner in the tattoo art scene looking for suitable tattoo starter kits or a professional tattoo artist seeking professional tattoo kits, you still looking for this great combination of price and quality, the tattoo kit that will provide you the value you want and will fully satisfy your needs with affordable price, reliable shopping experience that you can trust, and of course, great product.
What's the Best Cheap Tattoo Kit on Professional Level?
Many people will have their own take on what are the best tattoo machine kits one can buy for their hard-earned buck, so I decided to create this resource of detailed tattoo machines for sale reviews and objective analysis on all the popular kits available in the market in order to help you decide what is the most suitable tattoo equipment is for you and what the points you should consider when trying to pick one.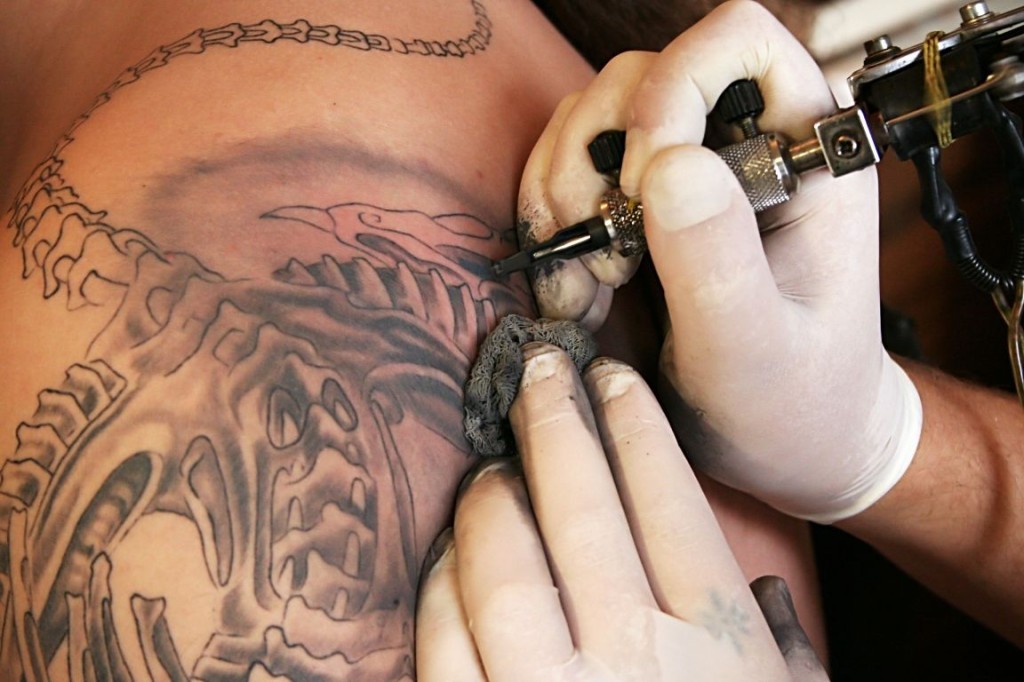 Types of Tattoo Kits Available for Purchase
There are a number of types of tattoo guns, the most common from a technical point of view are the shader gun and the liner gun (lining is the outer line of the tattoo design and shader is the filling of the tattoo). But, it's from a technical standpoint. From a mechanical point of view, there are 3 main types you need to know about: coil tattoo machine, rotary tattoo machine, and a pneumatic tattoo gun.
Let's learn about the difference between those tattoo kit types because, in order to be a good tattoo artist, you need to learn which one suitable for each situation and the pros and cones of each of the tattoo guns kits.
Coil tattoo gun machine
Coil tattooing gun is the most common gun type with tattoo artists, beginners, and professionals alike. It comes with different coil arrangement when two is the standard and one coil and three are also available. The mechanical principle of the coil gun is electromagnetic coils which allow the needle to move up and down and perform the tattoo work. With coil guns, it's possible to regulate the gun's speed and power. Also, coil machines can perform either lining or filling functions.
Therefore, most of the time they come in a package of two – one is used as a lining coil gun and the second as a filler gun. On many occasions, coils gun kits are the weapon of choice since they provide great customizability options, an acceptable learning curve, and great performance both in lining and filling. If you searching out of the many tattoo kits for beginners available, pick one that is coil mechanism-based.
Rotary tattoo gun kit
Rotary tattooing gun is the first and the original tattoo machines ever made that based on rotary mechanisms. They use an electric motor as the main gear that allows the tattoo needle its movement. Rotary machines provide most "old school" fill while tattooing requires knowledge in calibration and some already proven skills.
Many experienced tattoo artists picking rotary guns as their gear. As for beginners, you should probably pick your beginner tattoo kits out of the coil mechanism category since many amateur tattoo artists feel that rotary machines are awkward in hand and allow less control. For the more experienced tattoo artist, the rotary gun kit could be a perfect choice that would provide them the satisfaction and the results they want.
Pneumatic tattoo guns
Pneumatic guns for tattooing have been invented (and patented) in 2000 by Carson Hill. Pneumatic machine gun using an air compressor to make the tattooing needle go up and down, also, it's extremely lightweight compared to coil and rotary machine guns.
A pneumatic gun kit can be cleaned and sterilized without dis-assembly (comparing to other kits, which need to be taken apart). It's important to mention, that those kits and the whole tattoo supplies package are pretty expensive and their "tattoo feeling" is pretty distinct to the classic coil guns and the rotary machines. Because of those reasons, many choose to avoid pneumatic kits.
Shader and liner tattoo kits
The liner tattoo machines used for tattoo outlines and black works while the shader machine is used (as the name says) for shading work and coloring. Their needles set up differently, liner machines got fewer needles that are set in a circle (to allow the work me bore precise) while shader guns got the needles positioned in a straight manner to resemble a comb (that will assist shading and coloring). Also, the speed of the liner guns is usually higher compared to shader guns.
On the other side, liner machines are less powerful because the shader tattoo machines use more needles to penetrate the skin, therefore, more power is needed to make the needles move with vibrant and continuous flow. This requires the weight of the shader gun to be higher due need to provide sufficient electromagnetic power. Every tattoo artist needs to get used to handling both kinds of machines because the liner and shader guns are essential in the tattoo art process. So get used to the "heavier and powerful" feeling of the shader ones and the lighter and faster of the liner kits.
Is it Safe to Buy Tattoo Guns Online?
Buying tattoo gun kits on the Internet is the same as every other online purchase you make these days – reliable, fast delivery, great price, and always larger assortment with a wide number of tattoo guns for sale to choose from. So, it's pretty safe to order tattoo guns kits from the web. Later, we will review a number of great options for finding the best tattoo gun kit online.
Review of the Top 6 Tattoo Kits
Dragonhawk Mast Rotary Tattoo Pen Machine Kit Review
A great choice for a tattooing kit for amateurs and beginners alike. Our top pick. The Dragonhawk Mast Rotary Tattoo Pen Machine Kit is made of a Space Aluminum frame and custom Mast motor and its power supply is fitted with the rotary machine. It comes with 50 Pcs tattoo needle cartridges and allows a tailored tattooing experience to accomplish a wide variety of styles and techniques. Its well-rounded rotary tattoo machine provides great accuracy and control. Also, the tattoo gun is emulating the grip and feel of an actual pen, which provides a more comfortable and precise tattooing procedure than traditional machines.

So, the kit comes with a power supply, all the needed cords, needles, and a control pedal. The kit is a "plug and play" in a sense however you may want to adjust the stroke depending on your application. The adjustment is made by turning the machine grip where the needle cartridge attaches. This reduces or lengthens the distance between the needle cartridge and motor plunger that drives the needle in and out. With the adjustment all the way tightened it will provide maximum stroke. It's probably the best tattoo kit for its price and value.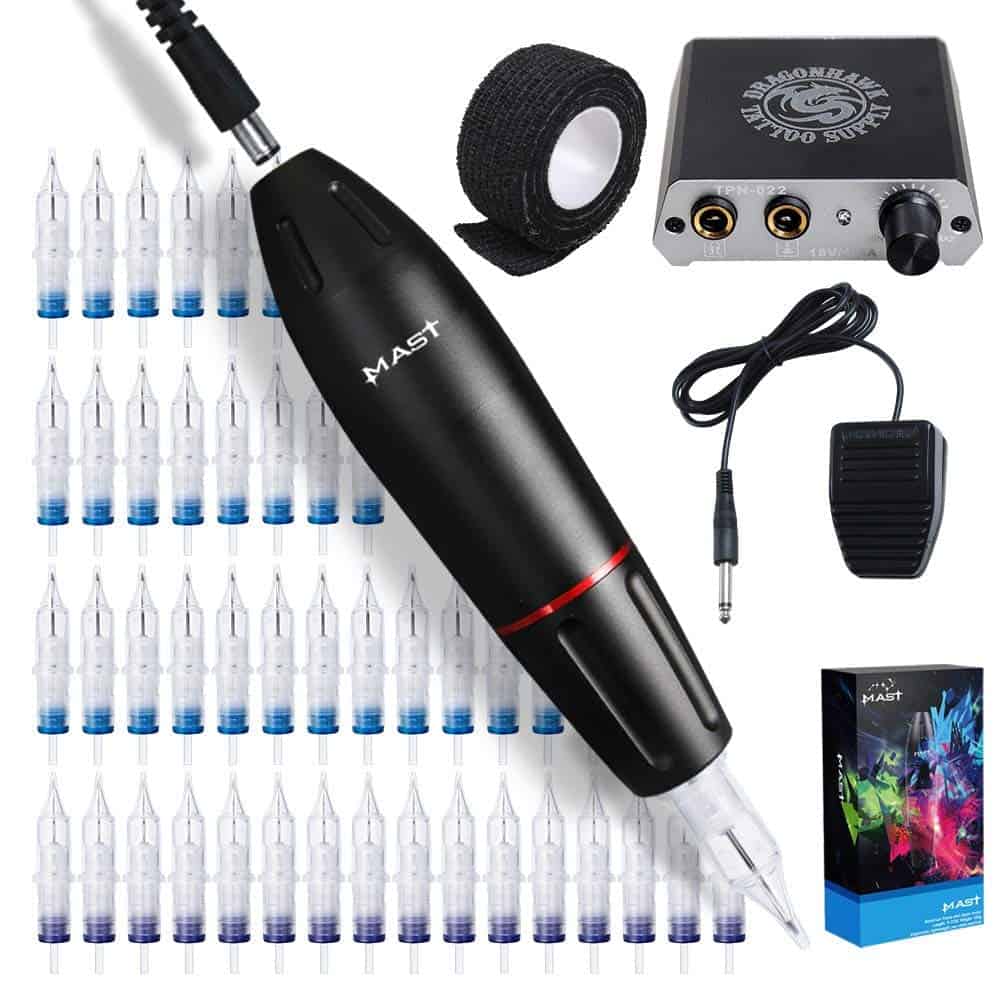 Grinder Tattoo Kit Review
One of the most successful and recommended tattoo kits for enthusiasts and beginners. This tattoo kit provides a set of tools and accessories and everything you need to start learning and practicing the tattoo art word. Also, it's a very affordable tattoo gun kit and is considered one of the best tattoo kits for beginners. Check out our Grinder gun kit review.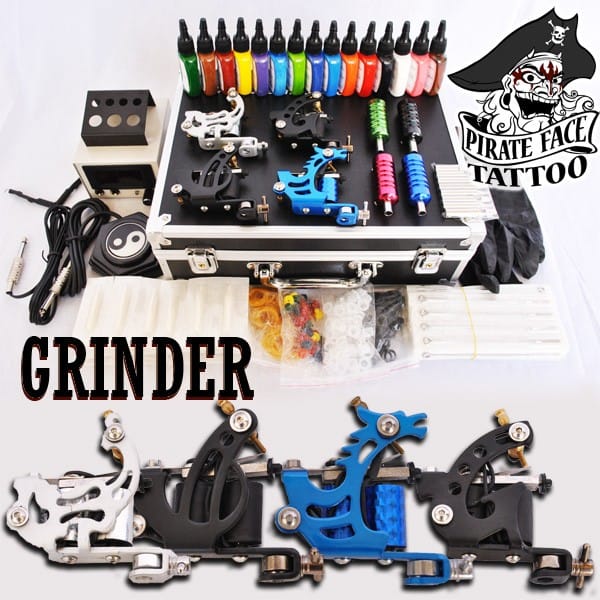 Fancier S-T06 Tattoo Machine Review
Good cheap tattoo kit to start with, it arrives with 6 guns for lining and for shading, power supply, beginner artist instruction DVD, and much more. It will give you the practice you need for the real stuff. How to hold the gun, how to put it in the power supply, how to use the needles, and how to use the inks. Check out our Fancier S-T06 tattoo kit review.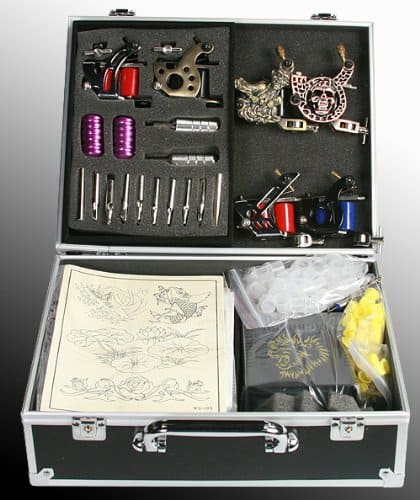 CARVER Tattoo Kit review
An excellent starting point for new tattoo artists and great for professionals on the go. This tattoo kit was put together with the professional tattoo artist in mind. The tattoo machines are easy to work with, easy to tune, and run as well as some of the best out there.
The power supply is reliable and rugged. All consumables are sterilized and blister packed, even the ink. Comes with 4 Machine Guns Power Supplies / 2 Rotary Machines / 2 Coil Machines / 15 INK / LCD Power Supply / 50 Needles / PLUS Accessories. Read our full CARVER kit review.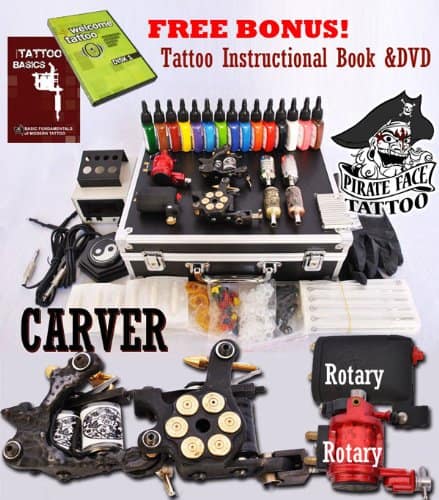 E-onsale Deluxe Tattoo Kit 2 Tattoo Machine Guns Review
A great suggestion for tattoo machines for sale as it's suitable for experienced tattoo artists as well as a beginner. Powerful 2 wrap coil machine gun set, 6 Akira tattoo inks, power supply, 4 alloy round tips and 4 alloy magnum tips, disposable needles, and much more. If you are in your becoming a tattoo artist phase or starting the tattoo apprenticeship, it's the kit for you. Plus – the price is great. Check the full E-onsale Tattoo Kit review here.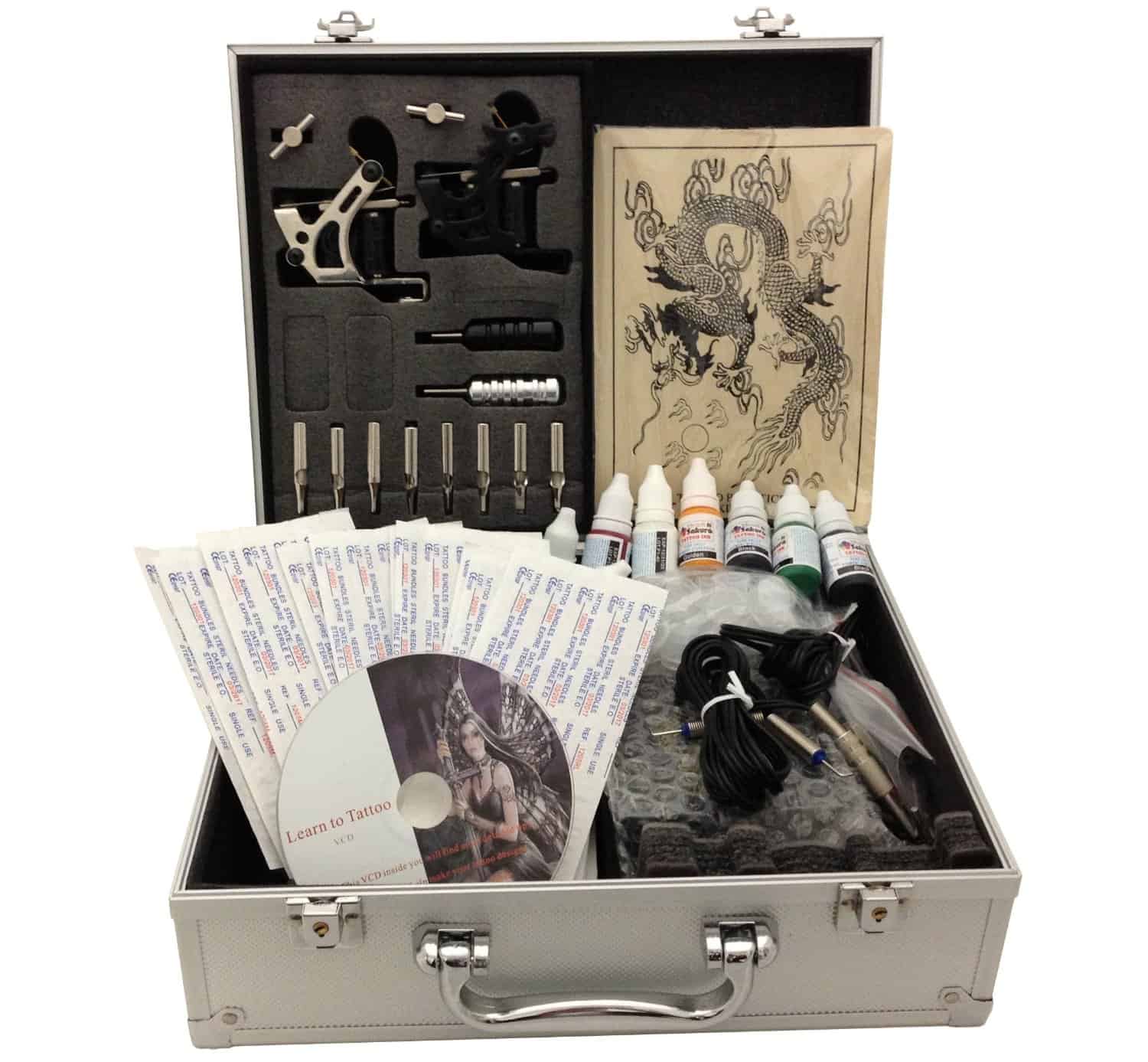 Professional 4 Machine Guns Tattoo Kit Review
Set that comes with powerful 4 guns, great quality tattoo colors by Akira, and a bunch of accessories for affordable prices. A good option for an affordable tattoo kit or a tattoo starter kit. Check the full review.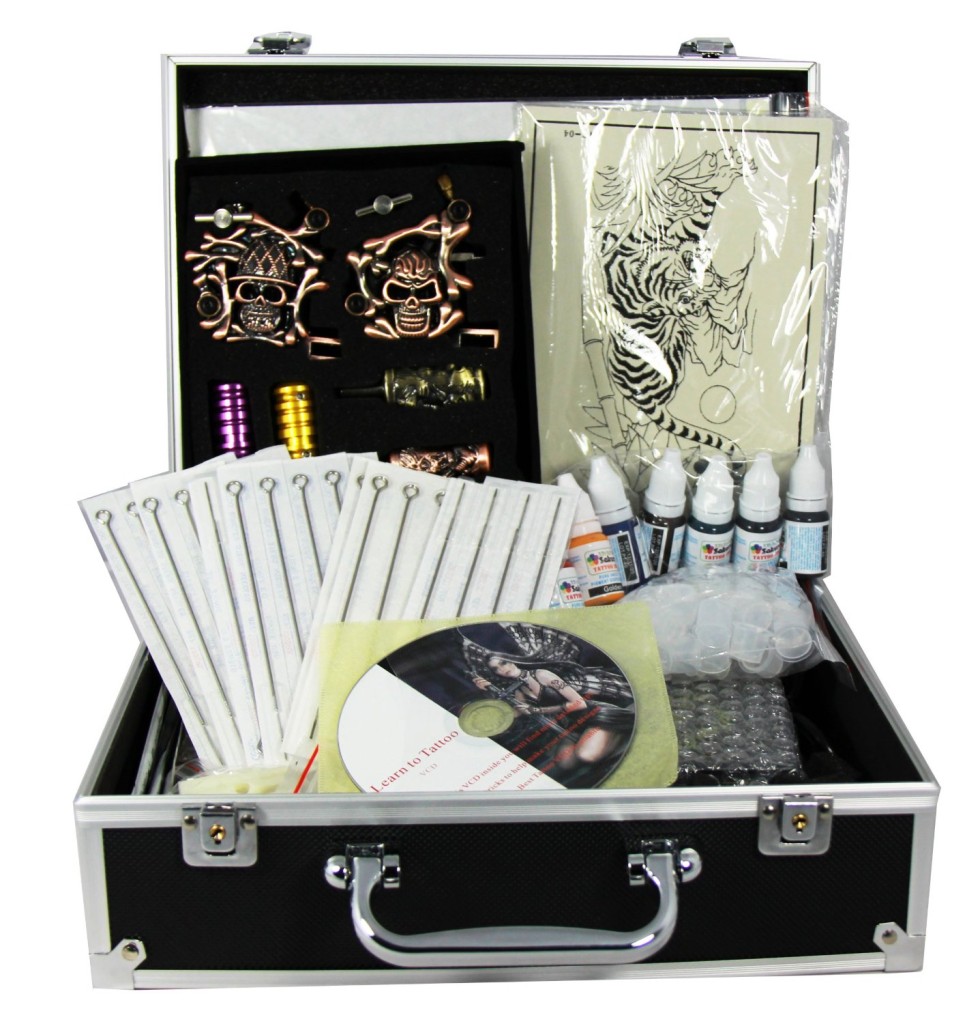 Fancier S-T02 Tattoo Guns Set Review
Nice kit from Fancier, got 4 coil guns that can perform as shared and as liners, tutorial DVDs for tattoo artist beginners, power supply, and many other accessories. Click here to see the full review of this kit.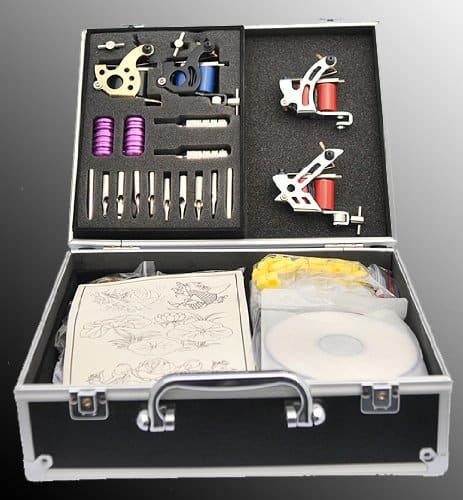 To Sum It up, What Tattoo Kit Should You Choose?
We hope that this article will be helpful for you in picking the right tattoo kit for you, whenever you a beginning tattoo artist or a more advanced one. As we said earlier, check out our recommended Dragonhawk Mast Rotary Tattoo kit which is an amazing tattoo set with an ergonomic, lightweight pen-style machine. This machine features a powerful motor and an advanced gear system that guarantees reliable, quiet operation without any vibration.