I want to review here one of the most successful and recommended tattoo kits for beginners these days – the Grinder tattoo kit, by Pirate Face Tattoos.
To summarize this Pirate Face tattoo kit review with one fast "one-liner" without wasting your time, the Grinder tattoo kit quality and the variety of accessories that come with is impressive and the value for money is great. It's a highly recommended tattoo set for beginners, apprentices and professionals alike.
Lets now explore the reasons for those recommendations while examining the details of the kit. With this tattoo kit, you receive 4 tattoo machine guns (coil guns), power supplies, 7 different 1/2 Oz color inks by Radiant Ink (made in USA!), LCD power supply, 50 tattoo needles and many different accessories such as tattoo instruction books, DVDs, guides, tattoo stencil paper, gloves and much more.
So eventually, if you consider the number of accessories that comes with, it's a pretty cheap tattoo kit deal that will allow you to begin practicing the tattooing art and to do all kinds of tattoos you always dreamed about – white tattoos, tribal tattoos, Maori style, different tattoo techniques, shader/liner work and much more.
The Grinder tattoo kit got all that's missing from other tattoo sets around and it's a great buying decision for an affordable and high-quality tattoo kit that can suite advance tattoo artists and a beginner that looking for a tattoo starter kit as well.
Buy the Grinder tattoo rig with 4 tattoo guns on Amazon >>>
Now let's explore the tattoo kit properties and tattoo accessories, as part of the pirate face tattoo kit review we doing here. We will cover the tattoo machine itself, the inks that included as part of the Grinder tattoo gun kit, the power supply, and additional tattooing accessories (that we have a ton here!). Let's start.
1. Tattoo machine – 9.5/10
Grinder tattoo machine is a great one to start your tattooing career with. Also, it's suitable for tattoo apprentices or even for a professional tattoo career as well.
The tattoo guns are pretty lightweight, around 5oz and got great grip feeling. The quality of the tattoo that coming under this machine is great, very precise and got a general satisfying feeling while working.
When you just get the tattoo gun out of the box, you will need to tune the machine, but once it's done – it's great to use (guide for tuning included).
We haven't experienced any issues with them and eventually, the Grinder tattoos machine was much more powerful than we expected, especially in comparison to other kits for tattooing out there. It's one of the highlights of this pirate face tattoo kit review.
Buy the Grinder tattoo rig with 4 tattoo guns on Amazon >>>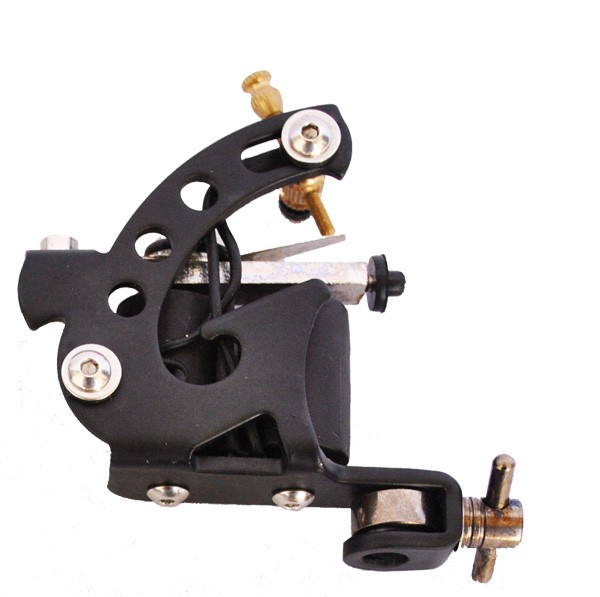 2. Tattoo Inks – 9/10
In the tattoo kit, you receive 7 different inks (colors + black ink) from Radiant colors. The quality of the tattoos ink is decent as it lays well on the different skin areas. The tone of them is crisp and sharp although not as in the most premium inks (but eventually it's great for start).
Just to mention the colors that included in the ink set: tribal black, super white, canary yellow, lime green, scarlet red, tiger orange, blue (check the image below).
It's a great color and quality variety for a beginner who seek for a cheap tattoo kit and who is starting to build his professional color set. Of course, you can try the premium ones – for premium inks we suggest you try Kuro Sumi for black ink and one of the Millenium Moms color inks sets for color tattoo inks.
3. Power Supplies – 9/10
In this grinder tattoo kit review, we want to emphasize the fact that the power supply in the kit is doing its job just fine and providing the needed power amount for the tattoo machines. The LCD power supply preferred more by us over the analog one because it's easier to read on the fly.
Foot pedal for easier control is included and paired with the supplies as well. There is a nice clip cord to. Eventually, it's a good tattoo kit power supply that provides great value for money.
4. Tattooing Accessories – 10/10
There is a BUNCH of them. It's an amazing tattoos accessories mix especially when you comparing all the cheap tattoo kits out there. There are 50 needles of different sizes. part for the shaders and some for the liners, tattoo practice skin, disposable gloves, 240-page tattoo instructional book by Charles Jordan (basic fundamentals of modern tattoo), ink cups and cup holders and much more. Everyone can start tattoos on his own terms and needs. Everything is included.
Also, there are little baggies of all the stuff you will need to replace like grommets and rubber bands… basically stuff you'll need to keep using your kit.
In addition, the kit comes with stainless steel tips and disposable tips that match the needles that come in the kit. I personally prefer to use disposable tubes since it requires less cleaning, but the tips are fine too.
In conclusion, it's a great cheap tattoo starter kit that comes with everything that beginners who want to get into tattooing may need. Also, it comes with a bunch of tattoo accessories, kit parts are the same as described and the machine works great. Buy it. It's the best you can get from all the available affordable and cheap tattoo kits out there and in addition, you can order one safely from Amazon with its great customer service, which is always a great bonus.
Buy the Grinder tattoo set with 4 tattoo guns on Amazon >>>
EDIT: Please note, currently the Grinder tattoo kit is out of stock, and its resupply date is unknown. Our recommended alternative is the Dragonhawk tattoo kit, which is an Amazon Choice and top-rated rotary tattoo set widely used by professionals and beginners alike. Check it out.
Grinder Tattoo Kit On TattoosSpot.com
Tattoo Machines -

9.5/10

Tattoo Inks Set -

9/10

Power Supplies -

9/10

Tattooing Accessories -

10/10
Summary
Highly recommended tattoo kit for everyone, beginners and advanced tattoo artists alike. Great price/quality value with this affordable tattoo set.