As you probably know, tattoo power supplies are an indispensable part of the tattoo machine for any tattoo artist, beginners, and professionals alike.
In the most simple sense, all the tattoo power supply does is one thing: control the electricity flow to your tattoo machine. In order to output electricity usage, some of them have a mechanical pointer to show the voltage level while others have more modern digital displays.
If you looking for your first tattoo machine power supply for your tattoo gun kit, then you should know that every power supply works pretty much in the same way. All the difference lies in the physical features like dual output, varying/multiple or fixed voltage levels, and efficiency at handling fluctuations.
So, let's start with a warning: Do not use a tattoo machine setup with a brand new power supply directly on the client. Test. Test. Test all your equipment and be comfortable with it.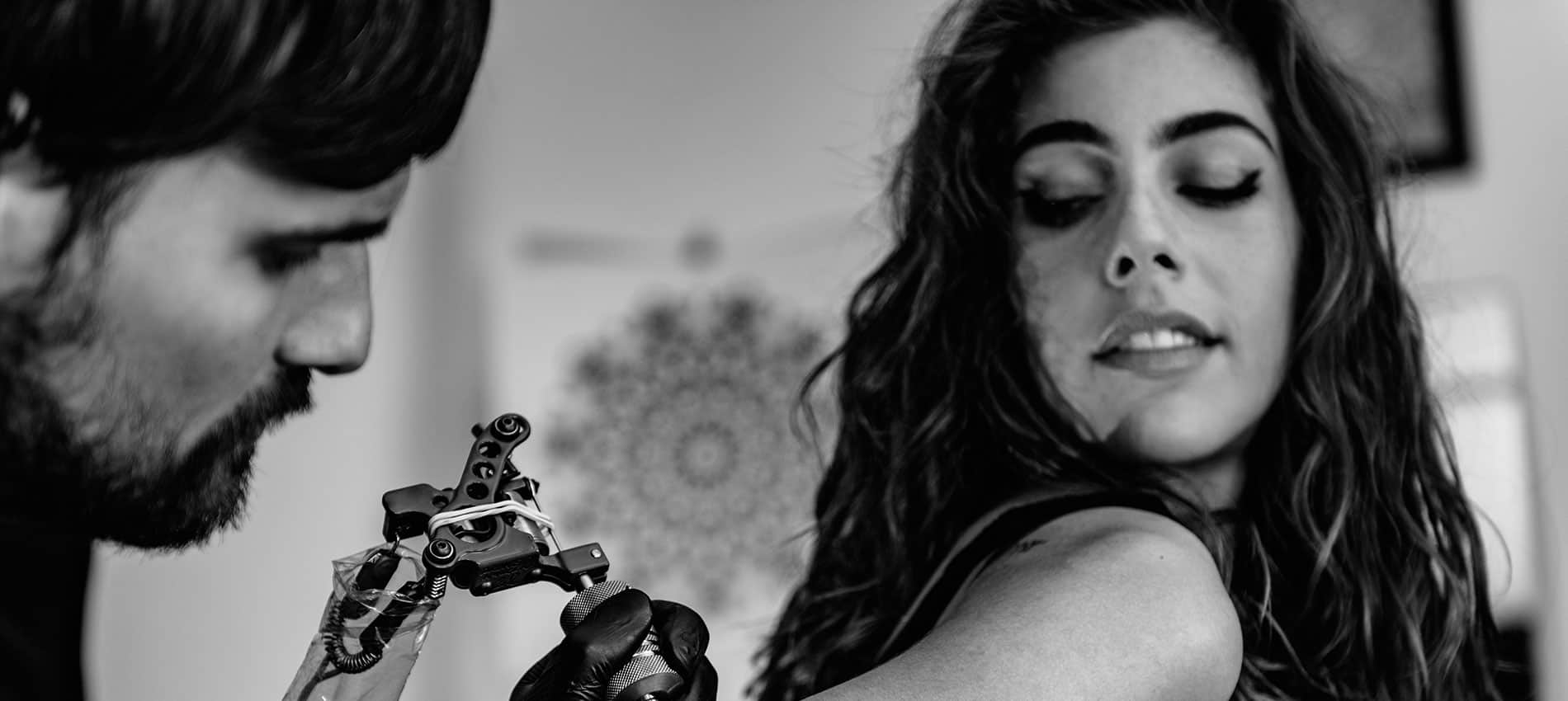 Tattoo power supply voltage levels
A huge variety of voltage ranges is available for your next tattoo machine. Power supplies usually have voltage levels in multiples of 3, but some do come with as low as 1 volts. You can get odd voltage levels these days if you need, but still, the majority of electrical equipment including your collection of tattoo machines takes voltage which is multiple of 3.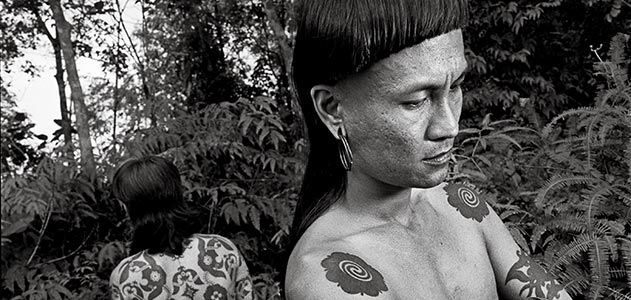 Power supply size and portability
The bigger the better? NO. Neither the reverse is true. Smaller portable power supplies work as well as large ones. For the same specs, portable ones cost a little higher than larger ones. The suggestion is not to spend until necessary. If you never go out of the studio as a tattoo artist and you aren't planning to do so anytime soon then you might not need a portable and ultra-small tattoo machine supply.
Reliable voltage level and lower fluctuations
When working on a tattoo design, to get the desired outlines and fillers you will need to vary the pressure throughout the tattoo session. This is exactly the point where you will need a good tattoo gun power supply with lower electric current fluctuations.
If you will pick a generic (unregulated) power supply, the power supplied will fluctuate as the needles pierce the skin. The regulated power supply compensates for these fluctuations. This is where the price plays a role, higher-priced power supplies will have the lowest fluctuations and vice versa.
Do you need a new tattoo power supply?
Depends on how you're doing and where you want to head. If you travel frequently as a guest tattoo artist, portability is what you should be looking for. Get more portable power supplies if you do a quarter of your tattoo works outside the studio. If you have a fixed studio with enough space then an equally efficient, larger system will be cheaper. You don't need to buy an expensive portable power supply because everyone else is doing so.
In case you aren't enjoying the experience with the existing tattoo machine power supply, from a fluctuations perspective or other reliability concerns, machines then you need a new one as well. Don't play with your tattoo work future.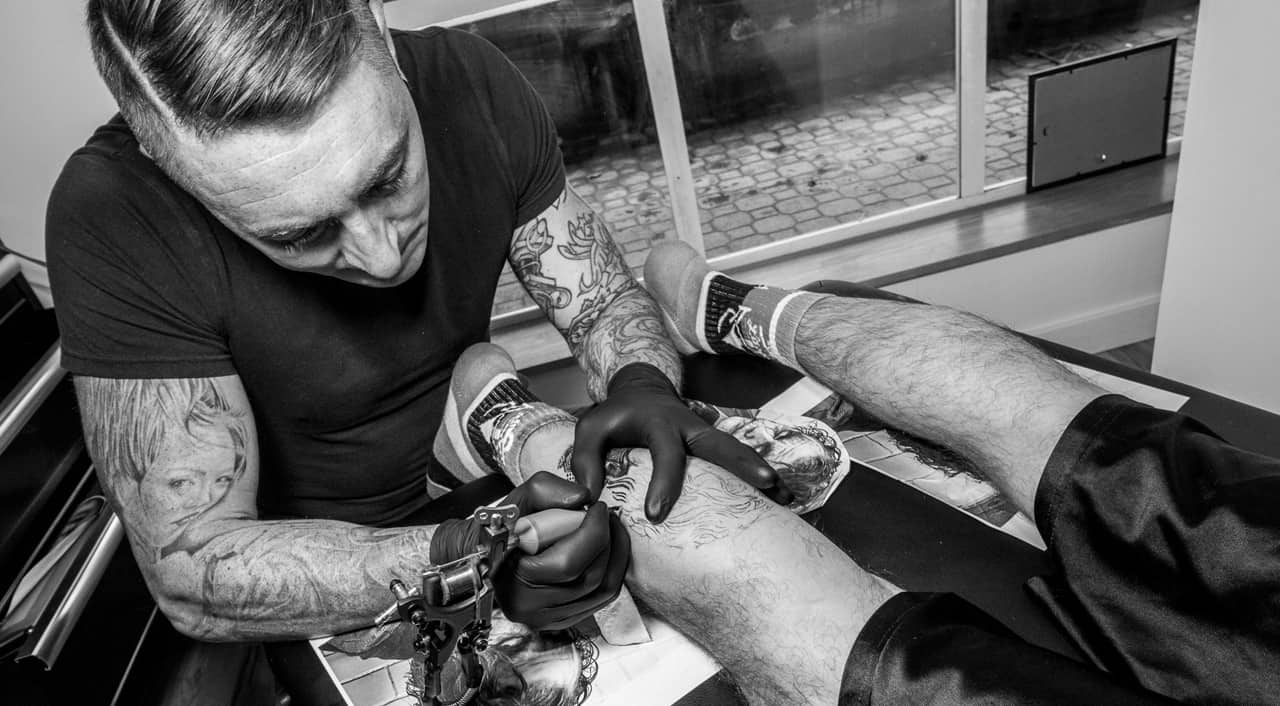 Buying tattoo power supplies and tattoo kits
In case you looking for a full tattoo set, we recommend the Grinder tattooing kit. It's a hight affordable, with great quality, tattoo set suitable for beginners and advanced tattoo professionals alike. Here is our full review of the Grinder tattoo kit.
This tattoo set was put with the professional tattoo artist in mind. The tattoo machines are easy to work with, easy to tune and run as well as some of the best out there. The power supply is reliable and rugged. Unlike other tattoo kits available on the market, the Grinder tattoo kits include USA Made Tattoo Brand Ink by Radiant Colors. Don't be fooled by cheaper tattoo kits that include Chinese Made tattoo ink which is unsafe to use! Radiant Colors has dedicated itself to creating a sterilized, easy to apply, pure, uncut homogenized pigment. These tattoo inks are a homogenous fluid mix that creates s a solid, long-lasting, bright color.
With this kit, you receive 4 tattoo machine suns, 10 coils, 7 bottles of Radians (USA) tattoo colors ink, all the needed tattoo accessories such as a carrying case, high-quality tattoo power supply, tattoo needles, tattoo ink cups, tattoo machine grips, tattooing gloves, and a FREE 240-page tattoo instructional book with video guide. A great kit all around with a high-quality power supply for tattooing.
Buy the Grinder Tattoo Set by PirateFace on Amazon >>>
If you need a single tattoo machine power supply, for liner and shader, we recommend the dual digital tattoo kit power supply by TattooStar.
It's a best-selling power supply on Amazon, with it you can connect both your liner and shader to the power supply, and with a simple flip of a switch, you determine which one power on. The fully digital design allows you to set the precise voltage. It comes with an upgraded flat foot pedal crafted in stainless steel which is a major upgrade from the basic square ones offered in other models.
The technicals are: Input: AC 60v-250v 50Hz-60Hz, output: DC 1.5-18v. Upgraded Stainless steel flat foot pedal, 6-foot clip cord. Digitally controlled output on this machine is from 1.5 to 18v with a powerful yet stable current to operate ANY tattoo machine on the market. This tattoo gun power supply is very flexible and can be used in any country with any voltage from 110-220v.
Buy the Dual Digital Tattoo Machine Power Supply by TattooStar on Amazon >>>