First of all, Oliver Wuensch, who we will talk about in this article, is a professional storyboard artist who works in the film industry.
A few months ago, a good friend told him in a pub that he wanted to get a tattoo that told his personal life story. When he showed him his designs on a sketchpad and asked for professional advice, Oliver's first reaction was to say: Have you ever imagined what it would look like on your arm? The design with the life stations is interesting, but it is too broad for your arm. Maybe it would be better to adopt the motifs to the anatomical shape of the arm and arrange them along with the muscles.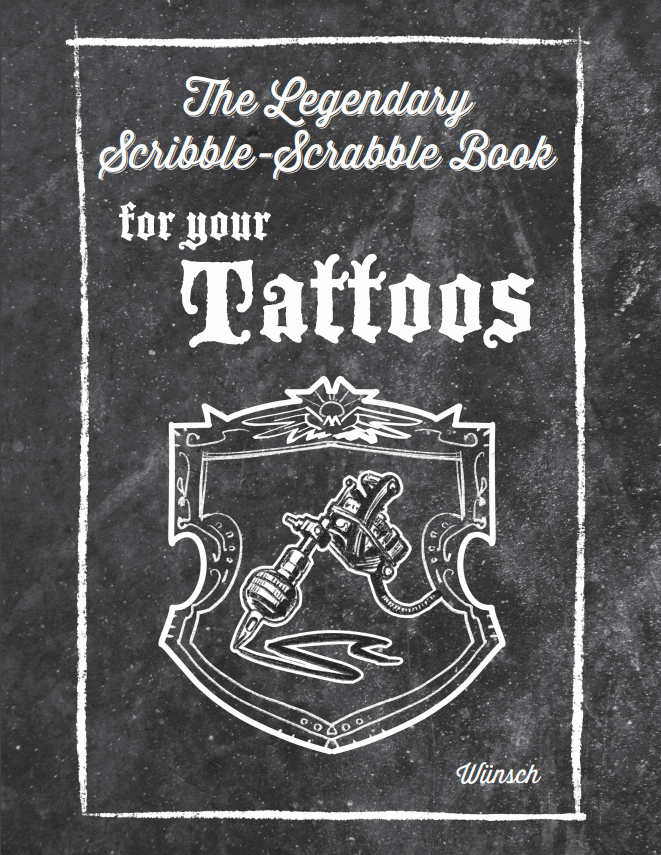 The next day he drew an illustration in which his friend could sketch his own tattoo design ideas on a blueprint of an arm, like in a coloring book. His friend tried out a better distribution of the elements of the tattoo life story and the design was adapted so that it follows the shape of the arm in a pleasantly aesthetic way. Sketching new or modified tattoo ideas into the photocopied arm illustration turned out to be a really fun experience and they spent several evenings in the pub trying out stuff.
This experience inspired Oliver to develop the little helper illustration into a whole set of body part blueprints for tattoo design sketching. He discussed these ideas with his wife Ute, who works as an art director and graphic designer, and they decided to develop a book from them.
Ute created an interesting decorative black and white look for the illustration style and the final result is now available as a DIY Scribble book in which you can draw your personal tattoo ideas on body parts of different male and female characters.
It is meant as a creative help for people who are planning their new tattoo, but also for everyone who simply enjoys tattooing a human body in a coloring book for fun. Or as a gift for people who are thinking about getting a tattoo.
Now you probably ask, why do people like tattoos? Well, the answer is that in most cases, body painting and tattoo are associated with psychology, but some purely practical points can be highlighted as well. The first is a practical use of doing a tattoo in order to mask a scar. This is especially true for females. Unattractive pigmentation, stretch marks left after childbirth or a sharp loss of body weight, postoperative scars, the consequences of acne – all this interferes in life, sometimes leads to the appearance of serious complexes regarding their own appearance. Cosmetics help only in mild cases, and plastic surgeries are a complex and expensive process. So doing a tattoo looks like a rational solution to the issue. A competent master will do everything so that the defect either completely disappears under the pattern, or becomes an integral part of it, and therefore will cease to be striking and inconvenient.
The second point is more characteristic of men. Representatives of law enforcement agencies, military personnel, people who regularly have to risk their lives – they all make tattoos that talk about the date of birth, blood type, and other information that is important for themselves or to others that would help them at some point of their life because those who practiced it, have done it with tattoo starter kits with fake skin included, which make them great artists. Yes, all of it should also be on a uniform or a special token, but applying it to the body is a much more reliable method to convey the necessary information to specialists. In a critical situation, such an ornament will save the life of the owner.
In addition, there are other reasons to do a tattoo on your body such as socialization. The desire to emphasize your belonging to a particular culture or social group. Also, the pure desire to decorate your body. No deep motives, no search for hidden meaning, no symbolism. Just a beautiful pattern that complements the image, emphasizing some pleasant external features of the owner. In a sense, these motives can be attributed to the practical category. And the last common reason is the fixation on some important life events. The birth of a child, acquaintance with the second half, a wedding – all these are important events in the life of each of us. For some, the main memory is captured in photographs, but someone goes further by making tattoos: portraits of children, loved ones, their names and dates associated with them
So for pretty much everyone, the scribble-scrabble book for tattoos could be a great fit and serve as a fantastic present as well. The book is available at Amazon.com or can be ordered in your local bookshop under the title of The Legendary Scribble-Scrabble Book for your Tattoos, Author: Ute Wuensch-Cloerkes.
Book pages for example: