The choice of a tattoo machine kit is an important question that starts the path of every novice tattoo artist. But how not be mistaken with the choice and which tattoo machine to buy in order to successfully start a career as a tattoo artist?
In order for the result to be of high quality, it is important to have both a contour (liner) and a paint (shader) tattoo machine in your arsenal – the purpose of these devices can be understood by the name. There are also universal tattoo machines. But in order to save money and buy a 2-in-1 tattoo gun set, you must be sure of the quality of the goods.
When choosing the main working tool, it is worth considering all the characteristics and thoroughly studying this topic. Also, many tattoo shops provide the opportunity to test different types of tattoo machines from different manufacturers, which greatly simplifies the choice of a beginner because when you can test personally, the making of a choice is much easier.
Different Types of Tattoo Machines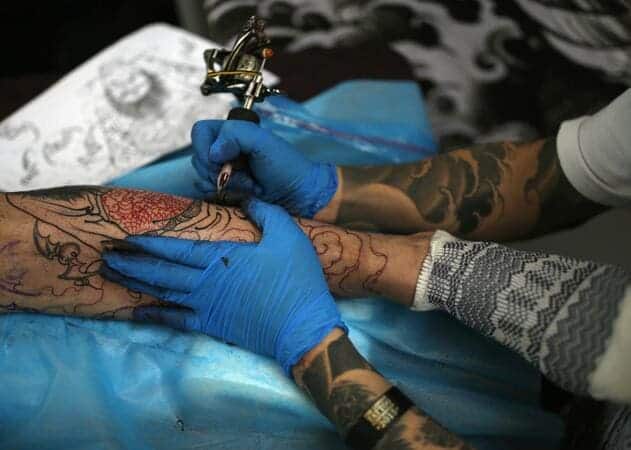 Rotary Tattoo Machine
The rotary tattoo machine is driven by an eccentric motor that converts rotary motion into reciprocating motion.
The advantages of rotary tattoo machines include:
Low noise level.
Minimal trauma to the skin.
Versatility.
Low vibration.
High efficiency.
The main disadvantage of rotary tattoo machines is that to achieve the perfect look of each part, you need to walk over the same area of ​​the skin several times. In rotary tattoo machines, the voltage depends on the strength, but the speed remains constant.
Induction Tattoo Machine
The principle of operation of an induction tattoo machine is quite complex. The work takes place due to an electromagnet, the function of which is performed by coils. The more turns on the coils, the higher the power.
The advantages of induction tattoo machines include:
Design flexibility.
Minimal trauma.
Convenient setting.
Affordable price.
The ability to create perfect contours and dense shades.
The main disadvantage is its narrow focus: each machine is designed only for a certain type of work and cannot be called universal.
Modular Tattoo Machine
A real breakthrough was the emergence of modular tattoo machines. Advances in rotary and induction tattoo machines have greatly simplified and accelerated the tattooing process.
Considering the design of this type of tattoo machines and kits, one can distinguish:
Tattoo gun holder that does not require special care.
Combination of a needle and a tip, which is implemented in a disposable design – needle-modules.
Of the shortcomings, only the high price can be mentioned. Also, often, this type of tattoo machine is used to create permanent makeup applications.
A Tattoo Set Main Features
The tattooing process involves a thorough preparation, where the first stage is to study the principles of operation of all components of the tattoo process, and this requires special training. And in this case, the tattoo set is universal and simply the most convenient solution for a beginner.
What are the advantages of a tattoo kit starter gun? In fact, this is a ready-made kit assembled specifically for training. The tattoo kit has everything you need to learn the basics and get started with practice – from the instructions to the artificial leather for training.
Each set is individual and its choice depends on the personal preferences of the beginner: the sets differ from each other with tattoo machines, power supplies, and tattoo pigments as part of the coveted box. As for consumables and accessories, the sets are about the same.
An important difference between one tattoo set from another is the type of tattoo machine included. The novelty will have to decide what kind of tool he wants to start working with – an induction or a rotary tattoo machine. Our personal recommendation is to order a tattoo set with two tattoo machines included. During practice, you will be able to understand which device is closer to you, with which it is more convenient to practice and, in general, determine the vector of further work.
In any case, together with the tattoo set, you can order other equipment: for example, additional tattoo paints, in order to immediately have in stock the entire arsenal of the necessary shades.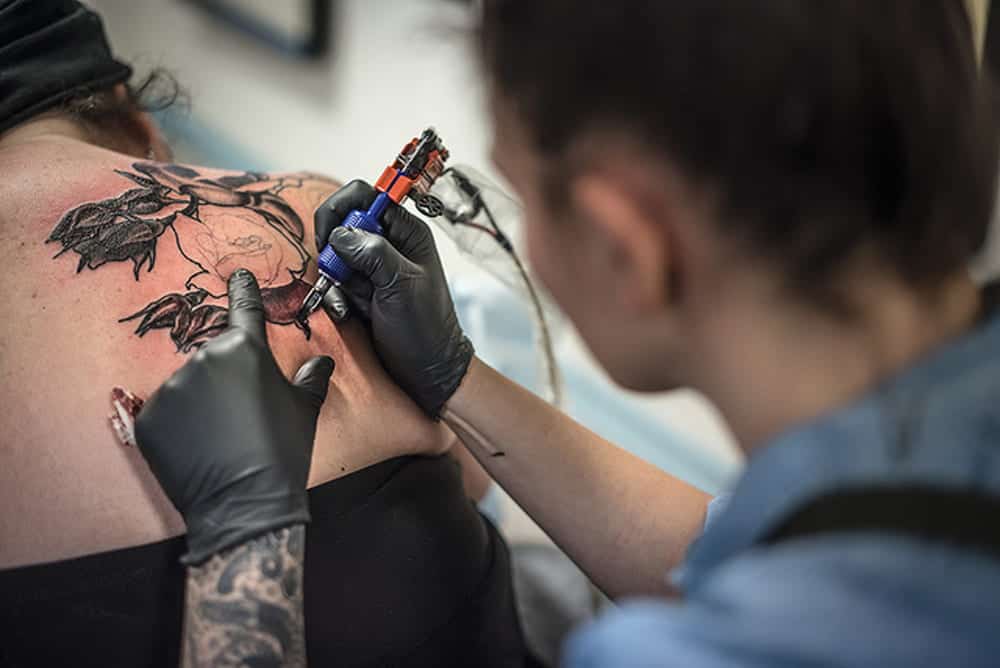 How to Choose a Tattoo Machine for a Beginner Tattoo Artist?
When choosing a tattoo machine, one should be guided not only by the popularity of the manufacturer's brand but also by the technical and functional side. It is also important to take into account the moment of further maintenance of the tattoo machine, compatibility with existing equipment, and the selection of consumables for its use.
We recommend that you pay attention to the main points that should be considered when choosing a tattoo machine:
Tattoo Kit Brand Name
If you were already interested in workshops that produce tattoo equipment. Indeed, when buying tattoo equipment from a well-known brand, you will be 100% sure of the quality of this product, but it is worth considering that the price of such a tattoo machine is quite high.
But, don't underestimate the budget tattoo machines set. Many Chinese manufacturers are using innovative approaches to create quality products at an affordable price. Newbies will appreciate the value of money, especially when the budget is tight. For them, the value for money will be just great.
Tattoo Set Functional Component
When choosing a tattoo machine set, first answer the question: "What kind of work will you use it for?" For contours you need a liner tattoo gun kit, for shading and shadows – a shader tattoo gun kit, as for a more universal solution, it would be a rotor, the type of which it's also possible to select: direct, forward, slider, piston or pen one.
An important role is played by the choice of the "strong side" of the tattoo process – the tattoo machine power supply unit, the voltage of which ranges from 5 to 12 volts, and the power from 2 to 4 amperes. Subject to all technical characteristics, the tattoo machine will work without interruption and will become a skillful brush in the hands of a tattoo artist.
Build Quality of the Kit
Every detail of a tattoo machine must be of high quality and not cause any doubts about its materials or construction. Pay special attention to the assembly: what the frame is made of, what materials were used, and so on. After all, if the machine is not of high quality, its maintenance and repair will significantly hit your budget – it will often be easier to buy a new one.
Ease of Use
Before buying a tattoo machine, it is best to first hold it in your hands and try it out. If this is not possible, you must remember: that a tattoo machine is your main tool and it will serve you for a long time, so working with it should be as comfortable as possible. When choosing, pay attention to the ergonomics of the design and the weight of the tattoo machine. If the tattoo set weight is a big factor, remember, that rotary tattoo machines are usually heavier than induction ones.
Frequently Asked Questions
Can You Choose a Universal Tattoo Machine?
The concept of a "universal tattoo machine" is very relative. For example, rotary tattoo machines can be considered universal, but they are somewhat inferior to narrow-profile machines in functionality, and they are relatively more expensive. Induction tattoo machines are very flexible in settings, and this is an important factor for a professional tattoo artist. Despite the fact that beginners will have to experience some difficulties when working with induction machines, we advise novice tattoo artists to "start" with induction machines.
How Does a Professional Tattoo Set Differ from a More Budgetary One?
Budget tattoos are intended solely for training. As for the professional tattoo kit, it is limited to only a few accessories, but it is suitable for full-fledged work on the client's skin. Another alternative, for a more compact tattoo kit, is the tattoo pen kit, which is an innovation to the tattoo needle cartridge system and provides a modern and compact tattooing experience.
Should You Buy a Chinese Machine to Start Your Tattoo Artist Career?
The only advantage of buying from a Chinese manufacturer is the price. However, there are many offerings from China and the lack of brand recognition makes it hard to differentiate the good from the bad. (There are some really bad ones out there, just look online for horror stories.) Sometimes it is worth paying an extra fifty or hundred dollars for the quality. The extra life you get out of your machine will make the extra price worth it.
The main advantage is still given to manufacturers in North America or Europe since it is easy to find equipment and consumables suitable for them, and get support when something goes wrong. Always ask about a supplier's warranty policy and search for its reputation before buying your tattoo machine. A supplier who has been around for a long time with a reliable warranty policy will make your life much easier. If the supplier is not responsive or does not answer your question directly, just take your business elsewhere. There are many suppliers who will treat customers fairly!