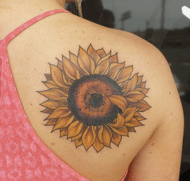 Floral tattoos are getting popular among all tattoo lovers. Sunflower tattoo is getting a lot of attraction due to its color and beauty. It is the flower that batter represents you as it always shines, tall and strong.
The sunflower is very unique among all flowers as it has a long stem and bright yellow petals. In the eastern part, the sunflower symbolizes good health and good luck. There are some flowers like roses, daffodils, and lilies that are also popular when it comes to tattooing.
Sunflower also has a very deep meaning and other significance with it. Some people believe that tattooing sunflowers on your body help to make you energetic.
When it comes to getting yourself inked then it becomes very difficult to choose which design or pattern suits you. So here we will provide 130 sunflower tattoo designs that suit and looks attractive on your body.
Sunflower tattoo meaning
Just like other tattoo designs sunflower tattoo also have a deep meaning connected with their shape, color, and historical significance. Meaning for a tattoo may vary from person to person depending upon his/her psychology.
Some believe that the yellow color is the symbol of happiness, joy, and long life. In the eastern part, it symbolizes luck, vitality, intelligence, and good health. People having sunflower tattoo faces life challenges with great excitement and they highly believe in their skill and love themself.
In some regions, it is also believed that if a person has a sunflower tattoo on his body then he must be loyal and people trust him.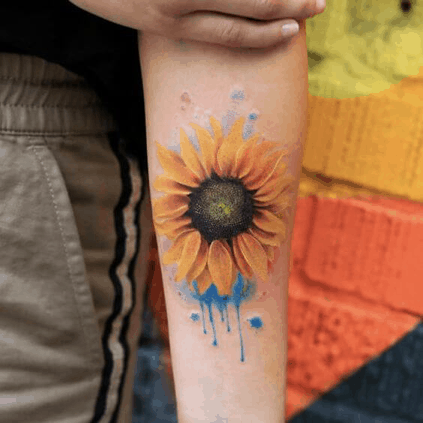 Position of sunflower tattoo on your body
The tattoos position also plays a very good role when it comes to attractiveness. People choose different positions on their skin to look attractive and make tattoo eye-catching.
Some common position for tattooing is Shoulder, Ankle, foot, and stomach. In the modern world, it also looks attractive to have a tattoo on your thigh and just above your hips.
Types of sunflower tattoo
Generally, people use different designs and patterns of sunflower tattoo to make them self-different, cool, and impressive so here we will talk about various types of sunflowers that usually people apply.
Single sunflower tattoo
This design looks quite unique and impressive. In this design, only one flower is made on your body. Generally, people apply a single sunflower tattoo as it doesn't cover a large portion of the body.
Sunflower bouquet tattoo
It grows during summer time and if you plant a sunflower in your backyard then it will multiply in their numbers. So in this one large and small sunflower tattoo is made on your skin that represents gratitude.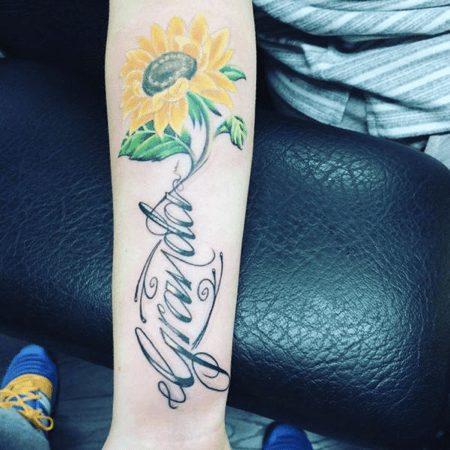 Interconnected sunflower tattoo
In this tattoo design, two sunflowers are interconnected with each other having a single stem that shows togetherness and brotherhood. This style is mainly adopted by boys.
Sunflower in my sky tattoo
In this tattoo type, the outline of the tattoo is made up of blue ink. People locate it on different parts of the body but usually, it is placed on the foot. It provides a very attractive look, especially on women's bodies.
Sunflower and butterfly tattoo
Having both sunflower and butterfly on your body looks great and provides a different look. It is usually adopted by women but some men (generally musicians) love to have this tattoo on their body.
Realistic sunflower tattoo
The realistic tattoo looks great and seems like they are outside the skin. It is made up keeping in mind that it will look like a real one. So in this design flower mouth is kept in such a direction that it looks like it blends in the direction of the sun.
Watercolor sunflower tattoo
In this specific tattoo type rather than choosing the usual ink watercolors are used to make it realistic and eye-catching. This watercolor is used with a specific solution that holds color to the skin.
Best Sunflower tattoo this day
Although every design is unique. You have to choose a specific one that suits your personality. So here are 99 sunflower tattoo designs that will look great on your body. Of course, those tattoos can be permanent or temporary, and for that, you will need a henna tattoo ink.