In the tattoos community there are a lot of black skin people (as you know, the white skin guys are not the only one that gets tattoos 🙂 ), and like everybody else when dark-skinned people seek something unique and special to tattoo on their body, many times they stumble upon the idea to make white ink tattoo design.
Going with white tattooing is a statement without being too loud. People with white ink tattoos can make their mark but still stand out from the crowd. While white ink art has many advantages they are not without disadvantages. If done in a poor or slapdash manner they can look really bad and leave unsightly marks for the rest of their lives. You need to pick out an artist who specializes in this. Fortunately, most professional tattoo artists can handle white tattoos without a problem exactly in the same way as other tattoos they are doing.
And now, after this short introduction, I want to talk about white ink tattoos on black people. Many professional tattoo artists and customers who tried to do that, recommend avoiding applying white ink on dark skin and suggest using it on lighter and pale body complexions (read more about white tattoo on pale skin here).
But still, there is a lot of evidence and recommendations from many black people (especially the African American guys I used to talk to) who really like how the white tattoo worked out for them. They say that the white ink really pops and stands out on their darker skin, especially if more touch-up is applied to the white tattoo after it gets healed.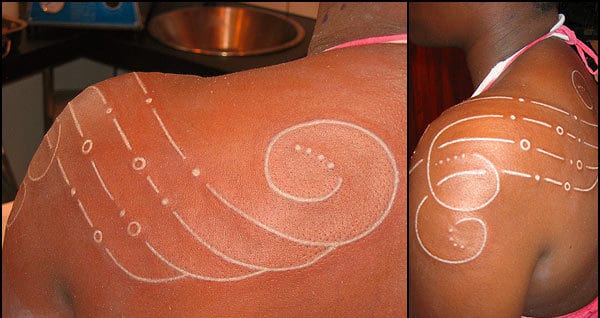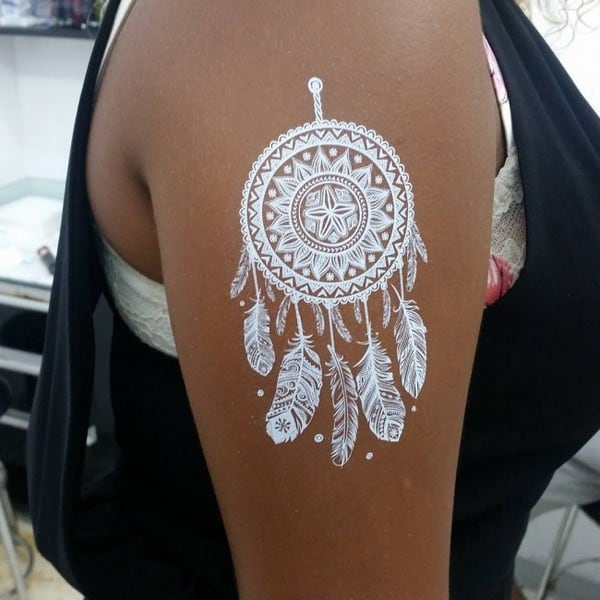 It's important to point out that the result will really depend on how your dark skin complexion is in the first place and the artist's experience. Don't forget, that the tattoo ink is applied under the skin, and the skin color itself can really change the tone of the tattoo – just imagine looking on white paper using dark sunglasses, it's the same. And like it was mentioned before, if you go back to the studio and touch up the tattoo a few additional times, it will really help its shape and style, says geometric dotwork tattoo artist Jeanmarco Cicolini.
About tattoo protection from sun damage- sunblock should be used on the white ink tattoo as it tends to fade quicker than other tattoos. Also, if you can, choose a place that is not exposed directly to the sun such as your back, and chest on the inner part of your hand, at least in the first period after you are done with your tattoo.
In addition, there is a great difference between high-quality tattoo ink and the cheaper one, be sure to check and ask the tattoo artist what kind of ink he uses and if the answers sound strange and shady – go to another artist. It's also important to mention, that the gun tattoos the artist uses, are also crucial. So if his equipment looks broken or unmaintained, be careful about it.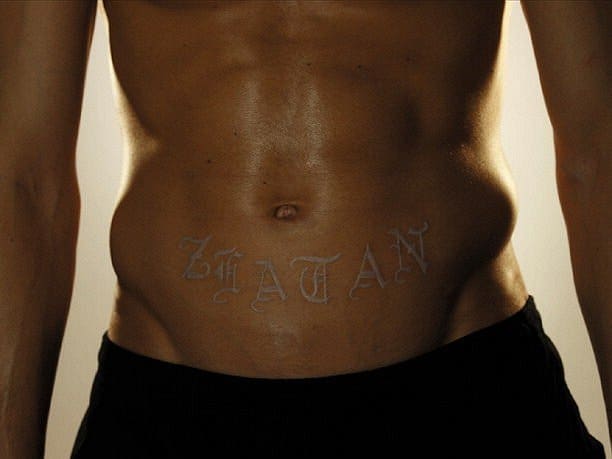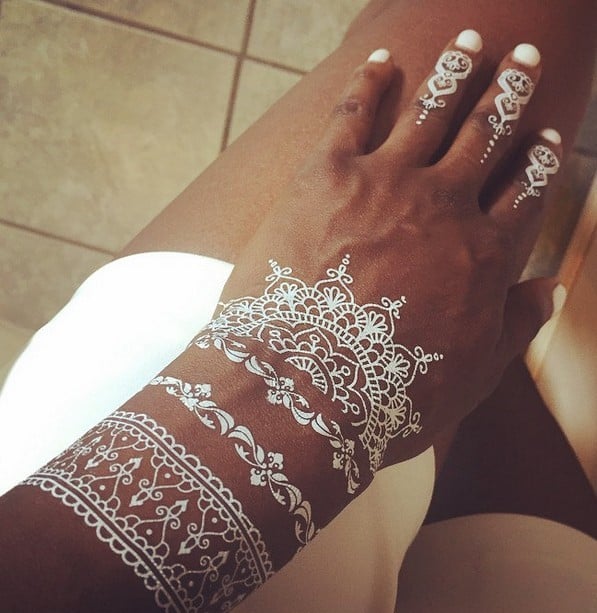 To summarize this, usually, we don't recommend getting a white tattoo on dark skin, but eventually, it's a matter of taste and no one can really say that white ink tattoos on black people – it's bad, as it's just a personal view on a subject. On many occasions, those tattoos turned out really great! So, it's up to you. They're a bunch of different designs, wings tattoos, males, angel wings tattoo, Chinese art, tribal tattoos, tattoos for sisters and etc. Just pick the one you love the most.
Regarding the tattoo design considerations – there are no real differences between the white tattoo designs to the classical ones. Choose the design you like and feel connected with or draw your own (or ask a friend) and go for it. I recommend you to check the 3,000+ tattoo designs collection book. Inside, there is something for everyone, and investing a couple of bucks to get the tattoo design you dream of sounds like a great deal to me.
Tattoo design inspiration ideas
If you want to get inspiration for your next white tattoo design, there are a couple of great books you can order from Amazon (super fast delivery and reliability):
The Mammoth Book of Tattoos – a tattoo design collection that covers all styles of tattoos from bold tribal pieces, Chinese characters, and hieroglyphs to delicate air-brushed designs. Included are striking images of tattoos ranging from all-over "body suits" to individual motifs. 512 pages of amazing tattoo ideas and inspiration!
Buy The Mammoth Book of Tattoos on Amazon >>>
Another tattoo book recommendation is the Great Book of Tattoo Designs. It's a comprehensive collection of original artwork that presents all of today's most popular tattoo subjects ranging from delicate roses to majestic animals, from steampunk to Celtic tattoo designs, from fairies to Mayan warriors' tattoos, and much more. If you're inspired to make a permanent personal statement with artwork that is truly artwork, these tattoo-friendly designs are just what you're looking for. With over 500 images here to choose from, the Great Book of Tattoo Designs is a great source of tattoo inspiration for you.
Buy the Great Book of Tattoo Designs, Revised Edition on Amazon >>>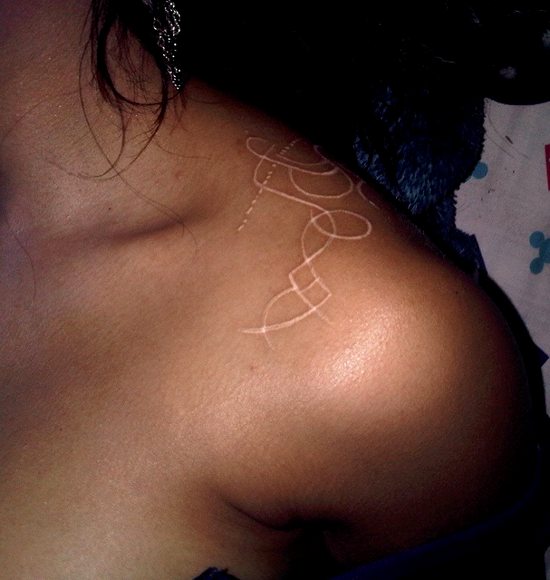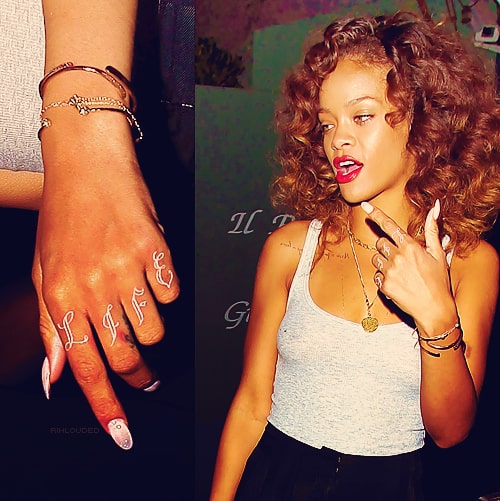 For even more inspiration, check out The World Atlas of Tattoos, a highly recommended tattoo design book that will provide you with many ideas. Its 400 pages illustrated a global exploration of the vast array of styles and most significant practitioners of tattoo from ancient times to today with over 700 stunning color illustrations of tattoo practices in Europe, the Americas, the Middle East, North and Sub-Saharan Africa, Asia, Australia, and the Pacific Islands.
Each section in the book, dedicated to a specific geographic region, features fascinating text by tattoo experts that explores the history and traditions native to that area as well as current styles and trends. The World Atlas of Tattoo also tracks the movement of styles from their indigenous settings to diasporic communities, where they have often been transformed into creative, multicultural, hybrid designs. The work of 100 notable artists from around the globe is showcased in this definitive reference to widespread and intriguing art practice.
Buy The World Atlas of Tattoo on Amazon >>>

White tattoo, to get or not to get one?
Like with every other tattoo. If you have black skin and you are considering doing the white tattoo, all the rules applied here as for any other tattooing process – pick a sterile and clean place, choose a recommended tattoo artist that uses quality brands with the best wireless tattoo machines out there, and got a history of great tattoo works and designs (and don't hesitate to ask for his tattoo art and sketches). Always remember to treat your tattoo right and use skin and sun care. Protect the tattoo from direct exposure to the sun and don't forget to do touch-ups if needed.
Please leave a comment with any questions or suggestions that you may have, we will be happy to assist.