Disclosure: As an Amazon Associate I earn from qualifying purchases.
Every year, Thailand is visited by a huge number of people. Many of the tourists are going to get a tattoo in this country and it's Thailand that remains one of the most popular country among tattoo lovers. The high demand for this service, as is characteristic of the market, generated an increased supply from various tattoo artists and masters.
So how to choose the right place and artist for the realization of your dreams? Let's get over the basic facts of getting a tattoo in Thailand in this article. For more information, check out our Thailand Tattoo Guide.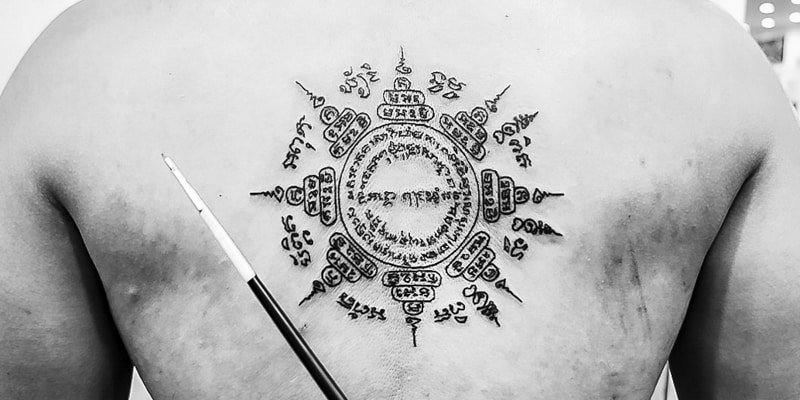 In fact, the main advantage of performing a tattoo in Thailand lies precisely in the originality of the design, and not specifically in the skill of the artists. In this country, you can get a tattoo not only in the popular high-tech and modern styles, but also using the traditional Thai style. As a rule, such images are applied in Buddhist temples by one of the monks.
Do not be afraid to get a tattoo in Tailand. It is confirmed that this is no more dangerous than in any other country in the world. However, it's still worthwhile to approach responsibly the selection of both the master and the type of image. The tattoo is done for life and it is better to take care of the quality of its application initially. Also, only in Thailand, you can get a Traditional Thai Sak Yant Tattoos.
Choosing a Tattoo Design
First of all, it is necessary to determine in advance the place of tattooing, as well as the style and look. Of course, the salons will offer to choose a picture already in place. But you don't have much time to think it over carefully.
The choice is wide enough: Buddhist style (traditional Thai style), and in Japanese. Not to mention the main modern directions. We recommend not only choosing an image and presenting it on the part of the body where you plan to fill the tattoo but also doing the design with you (sketch).
Deciding Who You Can Trust with Tattooing
So, the choice is made. Now it is very important to choose a master who can cope with the tattooing of the chosen style and design. How to do it? In Thailand, a huge number of masters of various ages and with different backgrounds. The status of some is determined by the fact that their work is carried on by celebrities, for example, Angelina Jolie. She has been referring exclusively to one monk for several years.
Tattooists get their reputation in much the same way as other creative professions: gaining recognition, working in a certain style in their direction. If it became known that the master builds his work on the application of tattoos in the Buddhist style, do not hope that he can fill the splendor in the Japanese style. Most likely, the customer will be disappointed.
The best way to identify the most professional Thai master is to gather as much information as possible. To begin with, it is worth visiting all the tattoo parlors that are possible. Already inside the cabin, you can appreciate the neatness of both the premises and employees. If everything is good in this regard, you can proceed with the selection of a specialist. However, it is worth noting that this is about neatness. Since Thailand belongs to such countries where the appearance does not need to be judged, the richness of the interior can lead to erroneous conclusions. Often, excellent craftsmen work just in very modest salons with very reasonable prices for services. For example, the most sought-after tattooist in Thailand works in a small room attached to the shop.
Finding Tattoo Artist
The easiest way is to get information about good craftsmen from local residents, or from hotel staff. Afraid of harming their reputation, the latter are unlikely to commit intentional deception. Further, visiting directly the salons themselves, be sure to check out the copyright portfolio. It will be ideal if it is in your master's portfolio that you can choose a sketch. This is almost a one hundred percent guarantee of quality performance, because he already did it.
Tattoo Information Sources
An excellent source of information are special online forums. It is from them that you can draw several names from which you will need to choose directly on the spot. You will find most of the information in the forums about Bangkok. The most popular salons must have their own sites, which contain a lot of information to make a choice. Salon websites also have catalogs of body art.
Sak Yant Tattoo Style
A bit about tattoos in the style of Sak Yant. These tattoos have been applied by locals since ancient times. Their main goal is to protect the carrier from evil forces and troubles. In Thailand, you will definitely be offered to apply a Sak Yant tattoo in any salon.
Keep in mind that only the work of a monk within the walls of a Buddhist temple will have magical properties, according to believing Buddhists. Tattoo Sak Yant is stuffed under the skin of a person in a certain way, indicated by tradition. It's about ritual scarring during a difficult ceremony in a real Buddhist temple.